The Stained Glass Centre is once again offering one-day, self-contained workshops in glass painting and leading in summer 2020:
Saturday 6th June – Glass painting
Sunday 7th June – Leading and Glazing
Saturday 20th June – Leading and Glazing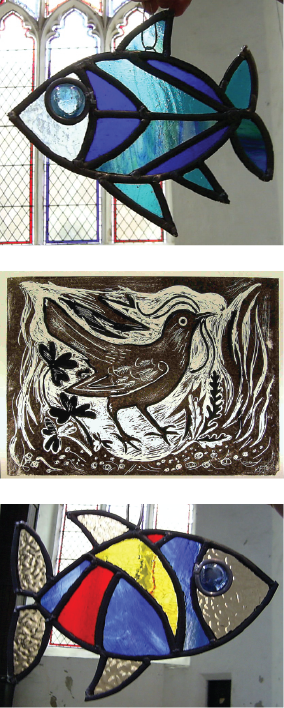 The workshops run from 10.30am to 5.00pm. The cost of attending each day is £75, which includes all materials and use of tools and equipment.
Glass Painting
In this one-day workshop you will be introduced to basic techniques of painting on glass, as used by artists from the medieval period to the present day.  With our expert tuition you will practice using different brushes to produce different effects, and by the end of the day you will produce a painted piece to be fired.  If you also attend a glazing day, you will be able to incorporate your painted piece into a leaded panel.
"I really enjoyed the course, very friendly and informative"
Leading and Glazing
In this one-day workshop you will learn the basic techniques of cutting coloured glass to shape, leading and soldering the pieces to produce a simple but charming piece of stained glass.  If you have previously attending a painting day you will also be able to incorporate your painted piece into a leaded panel.
"Thank you for the brilliant day on Saturday. I had a great time making my fish!"
The Tutor
Ann Sotheran is a Fellow of the British Society of Master Glass Painters, with over 25 years' experience of designing and making stained glass.  She has taught evening classes in stained glass for nearly twenty years as well as various workshops and taster sessions, covering all aspects of stained glass work including glass painting and acid etching. Examples of Ann's work can be found on her website.
Booking your place
You can book a place on any of our workshops through our Eventbrite page.
Numbers are limited to 10 at each workshop. If you need any further information, please email us at events@stainedglasscentre.org.